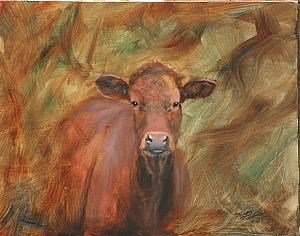 "Daisy," 16x20 Oil on Canvas
When Tommy Thompson was just starting out in plein air painting on a professional scale in 2003, he and his wife had the opportunity to attend a slide presentation by the great British-born painter John Stobart, honorary member of the Plein Air Painters of America. Stobart's presentation was a special highlight of a workshop conducted in Old Lyme, CT, by the Plein Air Painters of America and the Scottsdale Artists' School.

Stobart told the group that when he was young his father discouraged him from a career in art; he wanted the young Stobart to pursue medicine. However, school work did not interest Stobart; he was more interested in creative pursuits. Because Stobart had exceptional drawing skills, he was enrolled in the Derby College of Art and later won a scholarship to London's prestigious Royal Academy School, being one of only four students accepted that year.

The famous painter entertained his audience with a story about one of his plein air painting experiences. One day Stobart was out painting a pastoral landscape, probably similar to the kind that Tommy Thompson enjoys capturing in oil. While talking with a passerby who stopped to visit with the artist, he did not realize what was happening to his painting. When he returned to his easel, he discovered that part of his painting was now on the face of a curious cow who had ventured too close to the painting and now wore part of his painting. The cow must have interpreted the painting as a delicious meal.

At that same workshop, Thompson was amused while watching the talented painter, Kevin Macpherson, demonstrating plein air painting at Ashlawn Farm near Old Lyme, CT. Macpherson was unaware that the audience behind him included an equine member. A horse gradually moved closer and closer up behind the painter until his head was directly over the painter's shoulder. The crowd behind Macpherson were as fascinated with the horse as they were with the magic of Macpherson's painting.