"View Through the Trees," 10x8 Inch Oil on Panel by Michelle Rideout
When the Brentwood (TN) Public Library was being built in 1997, a substantial village and associated burial area was uncovered. Included in the discovery were artifacts produced by native Americans; these items have been radiocarbon dated to 1298-1465. Some of these artifacts were created using a technique known as negative painting, which involves painting the background and allowing the natural buff or grey of clay to create the positive image. Fast forward to the year 2011. On the same site, a new collection of paintings in oil, pastel and watercolor, created by Tommy Thompson and Michelle Rideout, father and daughter artists, will be exhibited in the Library and will be available October 1-31, 2011.

These two artists enjoy painting together at various Middle Tennessee locations--Radnor Lake; Glen Leven Estate; and other sites in Brentwood, Leiper's Fork, and Nashville, TN. As the daughter of an artist, Michelle Rideout came to painting quite naturally, after watching over her father's shoulders as he produced many art projects.

Michelle Rideout has been drawing since she was a small child with her artist father, Tommy Thompson, as her favorite teacher. As a professional artist she has studied with watercolorist Carolyn Wright of Chattanooga, TN; Nashville oil artist Jason Saunders; pastelist Pat Thompson of Franklin, TN; Colorado oil painter Jeanne Mackenzie; portrait and landscape painter, Dawn Whitelaw of Nashville, TN; Franklin, TN, oil painter Roger Dale Brown; oil painter Jeremy Doss of Atlanta, GA; Armand Cabrera, oil painter of Warrenton, Virginia; Kevin Menck, Nashville, TN, oil artist; and Casey Baugh, fine portrait artist of Chattanooga, TN and Framingham, MA. Rideout was also honored to have an exhibition of her paintings at Belle Meade Plantation Art Gallery in Nashville, TN, in 2010. She graduated with a B.S. degree in graphic design in 1989 from the University of North Alabama, Florence, AL. She belongs to the Chestnut Group, Nashville plein air painters for the land, and the Portrait Society of America.

Oil artist Tommy Thompson's pastoral landscapes are a blend of realism and impressionism and evoke a sense of peace. In 2010 Thompson's work was juried into art exhibitions by Belmont University and Birmingham's Energen Corporation.The artist's paintings have been featured in American Art Collector, Southwest Art, Horses in Art, Hills and Hamlets, Greater Nashville House, Home, and Garden and other publications. He has been invited to conduct solo exhibitions by art associations in Birmingham, Brentwood, Guntersville, Memphis, and Nashville. Thompson has studied with nationally renowed artists, Kevin Macpherson, Ken Auster, Kenn Backhaus, Roger Dale Brown, Scott Christensen, Jeremy Doss, Daniel Greene, Ned Mueller, Michael Shane Neal, Jason Saunders, and Dawn Whitelaw. He is a member of the Oil Painters of America, Portrait Society of America, American Impressionist Society, Landscape Artists International, and Nashville's Chestnut Group.

The Brentwood Public Library Exhibition by these artists--a father and daughter--will be displayed and for sale during the entire month of October 2011. The Library is located at 8109 Concord Road, Brentwood, TN. The hours of operation are as follows: Monday-Thursday--9:00 a.m. to 8:00 p.m.; Friday--9:00 a.m. to 6:00 p.m.; Saturday--10:00 a.m. to 6:00 p.m.; Sunday--1:00 p.m. to 6:00 p.m.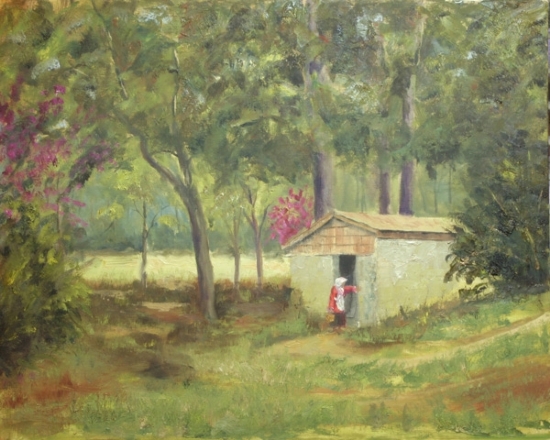 "Cool, Cool Water," 16x20 Oil on Linen, by Tommy Thompson