On Saturday, March 12, 2011, artist Tommy Thompson painted at Carnton Plantation with the Chestnut Group (chestnutgroup.org). The Chestnut Group--plein air artists for the land--will be painting at the plantation for several months in preparation for an exhibit show and sale to benefit Carnton during July 14-17, 2011.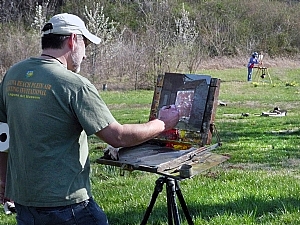 Roger Dale Brown (rogerdalebrown.com) paints a smokehouse on the Carnton Plantation.
The Chestnut Group was treated to a spell-binding account of Carnton's role in the aftermath of the Battle of Franklin, narrated by Carnton's historian, Eric Jacobson, while touring the 3-story mansion. Our tour guide is also the author of For Cause and For Country.
Sandy Harris paints the Carnton Mansion.
Carnton was the setting for the monumental Battle of Franklin--November 30, 1864-- during the Civil War. Within the 5-hour battle, almost 10,000 American soldiers were killed, wounded or disappeared.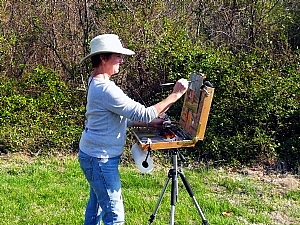 Beverly Ford Evans paints Carnton Plantation.
The home of John and Carrie McGavock was converted into the largest Confederate field hospital. In several of the rooms, we saw huge blood stains still marring the wooden floors. The McGavocks donated 2 acres devoted to the final resting place for the 1,481 Southern soldiers.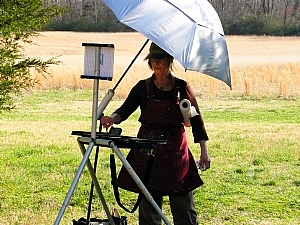 Denise Hawkins paints on the grounds of Carnton Plantation.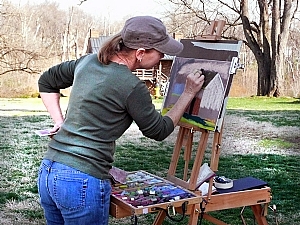 An unidentified pastel artist captures a scene at Carnton.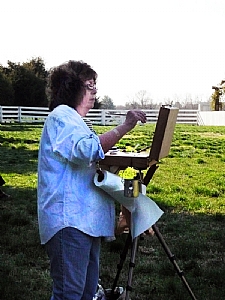 Eileen Moore preserves a Carnton scene in oil.