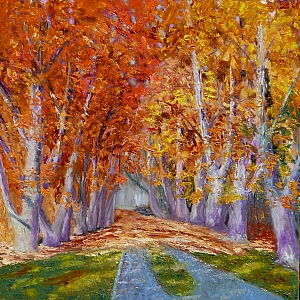 "Painted Trail" 48 x 48 inch oil on canvas by Tommy Thompson

Saturday, May 1, 2010, will be a special day for Laurel Leaf Gallery and Tommy Thompson Art. Bethany Reiser has set May 1 from 10 a.m. to 4 p.m. as the Open House for her new gallery, Laurel Leaf Gallery, located in Suite 5 of the Leiper's Fork Galleria Building at 4208 Old Hillsboro Road. An artist in her own right, Reiser creates beautiful hand-crafted jewelry from natural gemstones, and her stained glass art is an elegant complement to any decor. The new gallery owner has selected as the only fine artist for her new gallery--landscape oil artist Tommy Thompson--because his original oils reflect the natural environment that says "Leiper's Fork Country." If you miss the Open House, you can visit the Gallery on Tuesday through Friday from 10 a.m. to 3 p.m.; Saturday from 10 a.m. to 4 p.m.; and Sunday from 1 to 4 p.m.

Although Thompson was a commercial artist for more than 30 years, his painting career was jump-started at a Scottsdale Artist's School workshop in Old Lyme, CT, in 2002, where he painted with some of the nation's premier oil painters including Ned Mueller, Kevin Macpherson, Kenn Backhaus, Ken Auster, Matt Smith, Frank LaLumia, and John Budicin. Travels to Arizona, Maine, Maryland, New Mexico, North Carolina, Rhode Island, Texas, Vermont, Wyoming, as well as Canada and Europe, have afforded the artist a wide array of subject matter. But the artist's favorite place to paint has always been Leiper's Fork, TN. Many of Thompson's oil originals have featured scenes that depict the area's horse farms, creeks, hills and valleys around Leiper's Fork. In fact, one of his paintings, "Swinging Over the Harpeth" gained the attention of nationally renowned painter, Nancy Guzik, the judge for the Fine Art Views Competition in December 2009, when she placed Thompson's work in her favorite 15% out of more than 500 entries. "Swinging Over the Harpeth" depicts a scene near Leiper's Fork, off Old Natchez Trace Road; in the oil original young people can be seen jumping into the Harpeth from a rope swing--a popular summertime activity. Thompson's 48x48 inch oil called "Painted Trail," which depicts a scene near Old Lynnville, was juried into the Energen Corporation's "2010 Wonders of Alabama Art Exhibition." This spectacular painting would make a stunning statement in any setting. Five more of his paintings of Tennessee landscapes were also juried into Belmont University's Leu Art Gallery for their "Saving Paradise" exhibition slated for June 1 to August 5, 2010. Curator/juror for the show, Victoria Boone, selected 13 artists from a field of 35 Chestnut Group entries. The reception will be held from 4 to 6 p.m. on Wednesday, June 9 at the Gallery located in Belmont's Bunch Library. To see more of Thompson's paintings, check out his web site at www.tommythompsonart.com

Be sure to visit Leiper's Fork on May 1 to check out the new gallery--Laurel Leaf Gallery and the Guitar Festival also on tap for that day. The Festival will feature an unbelievable collection of vintage guitars, conversations with legendary guitarists, and concerts at the Lawnchair Theatre.

When you arrive at 4208 Old Hillsboro Road, watch for the red geraniums and colorful balloons beckoning visitors to the second-floor Laurel Leaf Gallery. You will be pleasantly surprised at the artistic creations waiting inside.