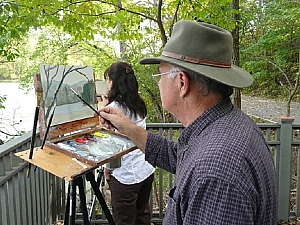 Michelle Rideout paints with her father, Tommy Thompson, at Radnor Lake in Nashville.
Michelle Rideout Now Has Her Own Web Site
We encourage all of our friends and collectors to visit our daughter's web site to see her oils and pastels.
Michelle has been painting en plein air for the past several years and prefers to paint landscapes. Michelle has studied under some of Tennessee's premier painters including Jason Saunders, Dawn Whitelaw, Roger Dale Brown, Jeremy Doss, Pat Thompson, Carolyn Wright, and others. She also participated in a plein air oil workshop with Colorado artist, Jeanne Mackenzie. Prior to moving on to painting, Michelle was an illustrator for Village Prints, where she designed and produced composite architectural-style drawings of numerous towns across twelve Southern states.
Michelle belongs to the Chestnut Group, plein air painters for the land of Nashville, TN. She holds a B.S. degree in graphic design from the University of North Alabama.