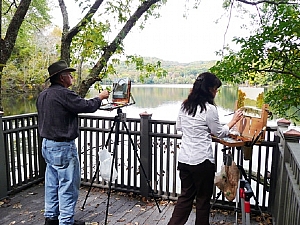 Tommy Thompson and Michelle Rideout paint at Radnor Lake in Nashville, TN.

Wednesday, October 21, 2009, proved to be a great day for plein air painting in Nashville, TN.
Tommy Thompson and his daughter, Michelle Rideout, enjoyed painting on the banks of beautiful Radnor Lake.
The two painters were entertained by a flock of wild geese that rested in the water beneath the painters without concern. A family of otters
playfully splashed in the water nearby.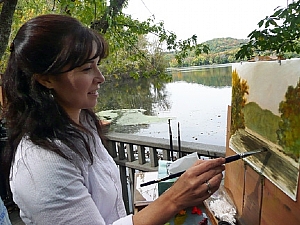 Michelle Rideout captures Radnor Lake on canvas.


Radnor Lake is one of the largest pockets of wilderness (1,200 acres) in the United States in close proximity to a major city. Status as a protected ecosystem allows a remarkable diversity and abundance of wildlife and plant life to thrive. At Radnor Lake songbirds, herons, geese, wood ducks, green snakes, rattlesnakes, frogs, toads, fish, otters, turtles, beaver, wildflowers, blackberry bushes, wild roses, grand oak trees, flowering dogwood, and many other members of the natural world live undisturbed. Approximately 240 species of birds, twenty-six of these waterfowl, have been identified at Radnor.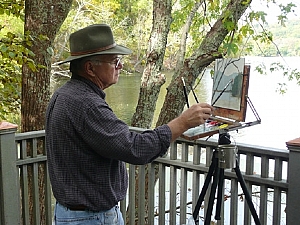 Tommy Thompson revisits Radnor Lake to capture its beauty.