Blog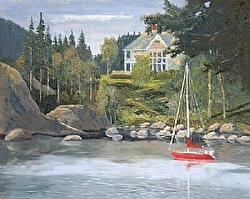 Tommy Thompson painted "A Summer Place in Maine," the largest of his paintings, measuring 48 inches by 60 inches, after visiting North Haven Island, Maine. North Haven Island holds many treasured memories for the artist after having visited there on three occasions. The plein air painter has enjoyed painting on North Haven with his good artist friends, George Walker and Mimi Sammis.
Comment on or Share this Article >>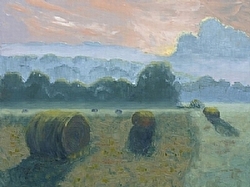 In "Bales at Dawn" Tommy Thompson painted a pastoral scene, which is very familiar in the Alabama countryside. This original oil depicts a scene that he found near his home in Florence, Alabama. He and his wife Marie were traveling along Cox Creek Parkway in Florence late one day when she discovered these hay bales along the highway. Immediately the artist began planning his next day's painting expedition. At dawn the next day, he was onsite armed with his backpack filled with the necessary paints and brushes to capture this beautiful scene in a field study. Back in his studio the painter created this oversize painting using the field study and digital photographs captured that morning.

Comment on or Share this Article >>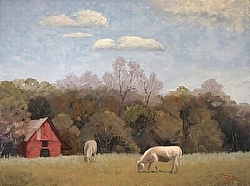 Tommy Thompson painted "Born to Graze" because of his love of cows, reflecting his rural upbringing. Tommy's mother really enjoyed taking care of her cows on her farm in rural Mississippi. In fact, her cows almost became her pets as she gave each of them a name. On lazy Sunday afternoons she would walk among her cows, petting and calling them by name. Tommy Thompson captured the pastoral scene in "Born to Graze" near Moulton, Alabama.

Comment on or Share this Article >>