Merry Christmas and Happy New Year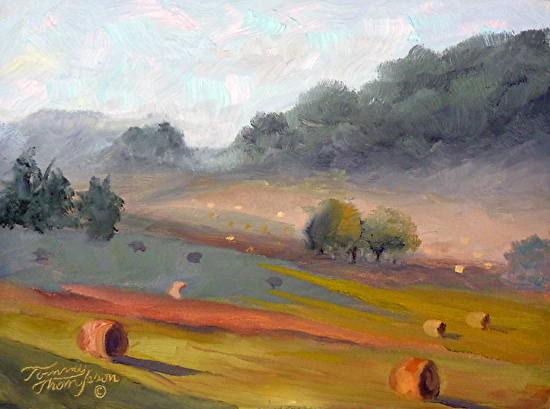 "Ingram Hay Bales," 6x8 Oil on Panel, by Tommy Thompson
Small Oil Treasures Available for Christmas Shopping
Check out Tommy Thompson's small oil paintings available for Christmas giving at this link: Small Oil Treasures. These small oil treasures can be shipped to any U.S. address free of charge in time for filling Christmas stockings. The painter is adding new selections every day. Be sure to check back often to see what is available.
Free Shipping to Any Address in the Continental U.S.A.
Tommy Thompson will ship any painting free of charge to any location within the continental United States of America.
Tommy Thompson Planning New Offering for Collectors
If you have wished that you could collect some of Tommy Thompson's oil paintings, you may soon get your chance. The artist is developing a new method of art collecting for those who have expressed an interest in his work. Stay tuned and as the concept takes shape, it will be announced on this page.

Are You Wondering What a Favorite Painting Will Look Like in Your House or Office?
If you are curious to know if a favorite Tommy Thompson painting will fit on your wall, we can answer that question after you email to us a photo of your wall. We will need to know the size of your wall and which painting you are considering. We will digitally insert that painting in your photo so that you will know in advance how it will appear in your surroundings. Contact tommy@tommythompsonart.com to arrange this service. We have provided this service to several clients in the past with perfect results.
"God must have had a lot of fun designing everything in nature."--Tommy Thompson