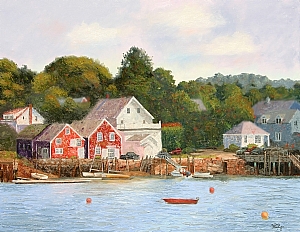 "View of North Haven Island from Vinal Haven Island, ME," 48x60 Oil on Canvas, by Tommy Thompson

We recently received a request from a nonprofit organization in Maine to donate a Tommy Thompson painting or two to their fund-raising auction. Thankfully we still had a copy of Lori Woodward Simons' excellent article titled "Fund Raisers that do it Right," which all artists should read. This article was published by FASO's Clint Watson in his newsletter, Fine Art Views. In this article, Ms. Simons gives specific examples of how fund raisers can "do it right." She shows how these organizations get the best artists to participate because they partner with the artists to raise funds, not take advantage of them. In answering the request of the organization in Maine and to educate them, we forwarded to them a copy of Ms. Simons' article, which was subsequently forwarded to their respective Board.
Like Ms. Simons, we agree that many artists in this down economy are struggling to survive and prosper. We agree that sometimes fund-raising organizations do the community of artists more harm than good. We agree that fund raisers who ask numerous artists for outright donations devalue the worth of the art in that community. When there is no minimum (reserve) price set for a work, it often sells for less than the cost for materials.; it cuts artists to the core when we realize that our paintings have been sold for ridiculously low prices. Even worse, the buyers return each year to pick up unbelievable bargains, and they rarely contact the artists to pay full retail price on additional paintings. This is the kind of "exposure" that actually hurts business for artists. In fact, we told our caller from Maine, requesting a full donation of a painting, that artists will starve to death on "exposure."
Another misunderstanding involves income tax deductions. Many people will tell you that you can deduct the value of the painting from your taxes since you are donating to a nonprofit organization. This is false; an artist can only deduct the cost of the materials that were used to create the painting.
We admire Ms. Simons for not only her artwork and writing but also the excellent advice and information on marketing that she provides to other artists. In fact, she will be teaching a 2-day art marketing workshop, "Outside the Box: Art Marketing," at Scottsdale Artists' School, Scottsdale, AZ, January 19-20, 2012. Hopefully, she will soon be publishing her own book on art marketing since she has a storehouse of knowledge on the subject and has been conducting research on the subject recently. Congratulations, Lori, and thanks for all that you do for artists.