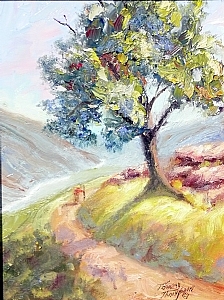 "Buck McGowan's Trail," 12x9 Inch Oil on Canvas by Tommy Thompson
I inherited an essential tremor that causes my hands to shake noticeably at times. Today, I take it in stride by joking that my tremor is "essential" to impressionistic painting. I have learned to adapt to this physical condition by using, as Richard Schmid does, a walking stick to help steady my hand when I need to paint detail. Another method that I use is to place my left index finger over my right thumb to steady my drawing and painting hand.
At other times I benefit from the tremor by using it to paint more impressionistically. I overcome this adversity by using my bouncing, dancing brush to add to the mystique of my painting style.
Once when I was traveling to locate new landscapes to paint on location, a little old lady at a breakfast bar, observing my coffee almost splashing out of my cup because of my tremor, said as she patted me on the back, "Honey, I think you've had enough of that for one day." However caffeine is not the real culprit causing the tremor--rather it is genetics.
While presenting an oil painting demonstration, the natural nervous tendency that anyone has before a group is exaggerated by the tremor. I have found that it is best to be upfront with the group and explain the tremor. When I first begin painting, my brush is actually bouncing all over the canvas. This can be somewhat entertaining to my audience, as it was when I was giving an oil painting demo for the Mountain Brook Art Association in Birmingham, Alabama, in October 2007 I had the crowd in stitches as I emphasized my "dancing brush technique" for them. By the time I get my initial layout blocked in and the puzzle pieces completed, my hands have usually calmed down, and I can complete the painting.
This example shows that anyone can overcome adversity in order to paint if they will see the positive side and not just the negative. By accepting the adversity and moving on, an artist can overcome almost anything. I really don't know how much longer I will be able to paint, but I promise you I will be "at it" until the end. In fact, I paint everyday; I cannot resist the pull of the paint brush.