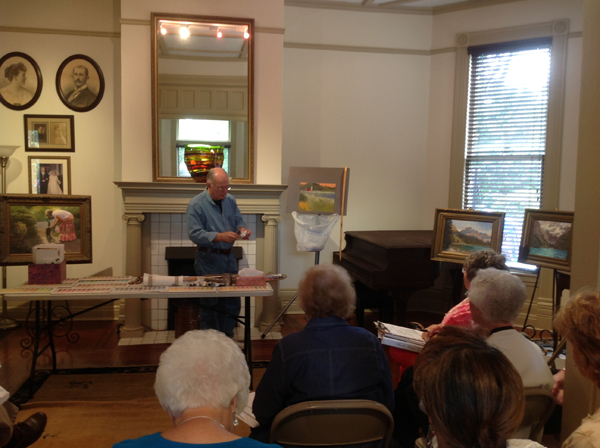 Tommy Thompson Presents Oil Painting Demo for the Shoals Art Guild, Florence, AL (photo, courtesy of Ginnie Higginbotham)

Shoals Art Guild member, Bonnie Davis, invited Florence, AL, artist Tommy Thompson to present an oil painting demo for the Guild's October 18 meeting. Thompson discussed the experiences that he has had since he moved from commercial art to painting landscapes in oil in 2002. Thompson and his wife Marie enjoyed seeing Guild President Ann McCutcheon, whom they have known for several years.
Thompson enjoys painting pastoral landscapes that include horses,figures, and architecture. His paintings are a blend of realism and impressionism and evoke a sense of peace. Thompson's painting, "Painted Trail," was accepted to Energen Corporation's 2010 Art Exhibition. His painting, "Swinging Over the Harpeth," was named a Favorite in the December 2009 Fine Art Views Art Competition by acclaimed painter, Nancy Guzik. His work was accepted by Leu Art Gallery, Belmont University, Nashville, for their "Saving Paradise" exhibition, displayed during June/July, 2010. The artist's paintings have been featured in American Art Collector, Southwest Art, Horses in Art, Hills and Hamlets,Greater Nashville House, Home, and Garden and other publications.
Travels to Arizona, Connecticut, Maine, Maryland, New Mexico, North Carolina, Rhode Island, Tennessee, Texas, Vermont, and Wyoming, as well as Canada and Europe, have afforded the artist a wide array of subject matter.