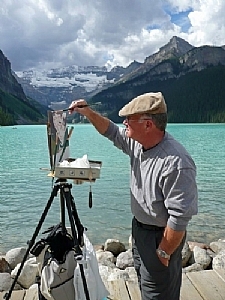 Tommy Thompson Paints the Canadian Rockies at Lake Louise
Tommy Thompson was an architectural and commercial illustrator for more than 30 years before moving on to painting oil landscapes in 2002. He now concentrates on painting pastoral landscapes that include horses, figures, and various forms of architecture. His paintings are impressionistic in style and evoke a sense of peace. His painting, "Swinging Over the Harpeth," was selected as part of the FAV15% (jury's favorite 15% of the entries) in the December 2009 Fine Art Views Painting Competition. Leu Art Gallery of Belmont University, Nashville, TN, selected Thompson's work for their exhibition, "Saving Paradise," June 1-August 5, 2010. His painting, "Painted Trail" was juried into the Energen Corporation's 11th Annual "2010 Wonders of Alabama Art" Exhibition/Competition.
Thompson has studied under some of the nation's top painters including Kevin Macpherson, Ken Auster, Kenn Backhaus, Roger Dale Brown, John Budicin, Scott Christensen, Jeremy Doss, Ned Mueller, Michael Shane Neal, Jason Saunders, and Dawn Whitelaw. Since 2007, he has been invited to show his work in solo exhibitions by various art associations and dealers in Birmingham, and Guntersville, AL; Memphis and Nashville, TN; and Starkville, MS. Thompson is a member of the Oil Painters of America, Portrait Society of America, American Impressionist Society, Landscape Artists International, Art for Patronage, and the Chestnut Group, a nonprofit alliance of landscape artists of Nashville, TN. Now living in Florence, Alabama, Thompson receives inspiration for his plein-air landscape paintings from the natural surroundings.
The California-based magazine, Horses in Art featured Thompson's equine art in their Winter 2008 issue. His work was featured in the October 2008 issue of American Art Collector magazine on pp. 122-125; these paintings, "Horses of the Tetons" and "Got One" were pictured in this article. Southwest Art features Thompson's work at this link: http://www.southwestart.com/artists/artist_spotlight/2233 Thompson was interviewed in March 2008 "In the Spotlight" segment; this interview can be accessed here: http://areaofdesign.com/inthespotlight/2008/thompson.htm.
Thompson was honored to have his work featured in the May/June 2007 issue of Greater Nashville, House, Home, and Garden magazine. A Washington, DC, interior designer selected two of his paintings, "Morning Fog" and "Flat Creek in Jackson Hole," for the new Board Room of St. Mary's Hospital in Knoxville, TN. A Nashville, TN, interior designer chose Thompson's painting of "A Summer Place in Maine" for display in a 2007 Middle Tennessee Parade Home. Thompson's work is now in private collections throughout the United States; his paintings are now in the corporate collections of St. Mary's Hospital, Knoxville, TN; Indiana Railroad Company, Indianapolis, IN; and Brentwood Academy Permanent Collection, Brentwood, TN.
Travels to Connecticut, Maine, Maryland, New Mexico, North Carolina, Rhode Island, Tennessee, Vermont, and Wyoming, as well as Canada and Europe, have afforded the painter a wide array of subject matter for his paintings.

Tommy Thompson`s Collectors Say:
"We are very pleased with the painting we purchased. We were in the Jackson/Hoback area recently, and we could visualize the painting in our minds as we gazed out over the Hoback Range. You did an excellent job of capturing the feel of the area." --Thomas Hoback, Indianapolis, Indiana

"I spent the better part of an hour this morning enjoying your gallery of paintings. It was exhilarating, and I thank you for a time well spent. Wonderful colors and thick textures you want to touch! I do admire your style." --Katherine Harris, Rome, Italy

"I was first introduced to Tommy Thompson's work through his paintings of boat houses. I now have five boat house paintings. Since then I have become a fan of his plein air works. He has a unique way of capturing the scene with amazing colors. I expect more wonderful paintings from him in the future."-- Anne Knestrick, Franklin, Tennessee

"Tommy, your site looks great and works well. Your painting of our home in Germantown (Nashville) is one of my favorite things. The fact that you chose it to paint was flattering as we designed the house ourselves and you executed it perfectly. I like our neighborhood because every day here feels like a Sunday afternoon and that is what your painting feels like too. Good Luck in all things. You do beautiful work." -- Dean Dixon, International Photographer, Nashville, Tennessee

"Our painting, 'Penobscot Bay,' is lovelier today than it was when I first spotted it hanging on the wall at Palladio. I originally purchased the painting for one particular room; however, because of its versatility and coloring, it fits the decor of almost any room in our home. `Penobscot Bay` certainly is one of our most prized pieces of art!" -- Paulette McMillin of Germantown, Tennessee

"We have just bought our third work from Tommy, a truly gifted painter of outdoor scenes. Our first acquisition was 'Reflections of Maine,' a deeply evocative rendering of the Maine coast early in the morning. I don't know how he captured the ocean, but it actually seems to have depth. And I can hear the clanging of the boom and the gentle rocking of the little sailboat against its mooring. Our second acquisition is 'Grazing at Dawn.' The horses grazing, the bale of hay, the river bend in the background with the mist rising off it in the dawn, and that shimmering first light of sun comprise one of the quietest pastoral scenes I've ever seen. The entire scene is enveloped in the atmosphere we associate with the first light of day. 'Grazing at Dawn' hangs over our bed and welcomes us each morning as we awake. Our third acquisition is 'Cold Ride,' a scene of a cowboy riding along a ridge somewhere in Wyoming. Believe me, you are shivering right along with him as the wind howls by. (Tommy confessed that it was his native Tennessee, but he created a Rockies background that is what makes this picture so effective.) 'Cold Ride' is now the centerpiece of our den - a perfect rustic complement to our den. Both our bedroom and our den have come alive after 20 years, thanks to Tommy."--John and Mary Bers, Nashville, Tennessee